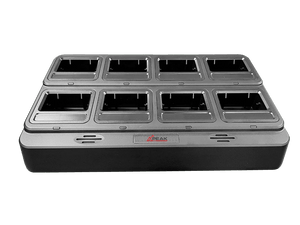 PTT-624G Multi-Charger
Regular price $389.00 Sale
Experience the efficiency and convenience of the PTT-624G Multi-Charger, designed to support simultaneous charging of up to 8 PTT-624G radios and 8 batteries. With sixteen slots in total, this powerful charger is perfect for busy work environments or organizations where seamless communication is essential.
Power Supply Specification:
Voltage: 100V - 240V 50/60Hz AC 3A, ensuring global compatibility.
Output: 15V 8A, providing ample power for charging multiple devices.
Operating Temperature: 32°F to 113°F, making it suitable for a wide range of environments.
Charger Slot Specification:
Input: DC15V 8A, allowing for a stable charging process.
Output: 5V 1.5A, delivering a rapid charge to each device.
Maximum 1.5A output to each charging slot, ensuring consistent charging speed across all devices.
Power Consumption:
Unloaded Less Than 0.2 watts, making the PTT-624G Multi-Charger an energy-efficient choice.